In my eyes, last night's game meant little to Peyton Manning's legacy.
I've written before about how I feel Manning is the greatest quarterback to ever play the game, and I didn't need him to throw for five touchdowns last night to validate that. The pomp and circumstance of the Super Bowl is fascinating (and at times nauseating), and it is certainly the biggest sports spectacle that is put on a yearly basis… but yet, it's only a single game. It doesn't provide enough of a sample size to come to a conclusion about one's career.
I don't think postseason results should be completely ignored, however; instead – particularly in a quarterback's case – they should be viewed with caution. Raw win-loss statistics don't tell the entire story when there are factors such as opponent quality and supporting cast that should be taken into consideration.
Because Manning has only won two championships, his postseason resume isn't viewed as highly as other signal-callers who have won more titles. That difference shouldn't be held against him however, based on one of my favorite quarterback stats in adjusted net yards per pass attempt. This statistic shows how many yards one gets per passing play, with touchdowns and interceptions weighted appropriately.
(Passing Yards – Sack Yards + (20 * Passing TD) – (45 * Interceptions)) / (Passes Attempted + Times Sacked)
I did a quick comparison of ANY/A postseason numbers from quarterbacks who have won two or more championships during their careers. Manning's 6.29 ANY/A sits fifth among the 12 signal-callers, ahead of guys who are regarded in playoff folklore such as Troy Aikman and Tom Brady.
Bart Starr – 9.00 ANY/A in 10 G – 2-0 in Super Bowl
Jim Plunkett – 7.25 ANY/A in 10 G – 2-0 in SB
Terry Bradshaw – 7.16 ANY/A in 19 G – 4-0 in SB
Joe Montana – 6.99 ANY/A in 23 G – 4-0 in SB
Peyton Manning – 6.29 ANY/A in 27 G – 2-2 in SB
John Elway – 6.15 ANY/A in 21 G – 2-3 in SB
Troy Aikman – 6.15 ANY/A in 15 G – 3-0 in SB
Eli Manning – 6.15 ANY/A in 11 G – 2-0 in SB
Tom Brady – 6.05 ANY/A in 31 G – 4-2 in SB
Roger Staubach – 5.89 ANY/A in 20 G – 2-2 in SB
Ben Roethlisberger – 5.81 ANY/A in 17 G – 2-1 in SB
Bob Griese – 5.42 ANY/A in 11 G – 2-1 in SB
Having the better quarterback doesn't guarantee a Super Bowl victory – in fact, history has shown the opposite. Using the adjusted net yards per pass attempt statistics once more, I compared the starting quarterbacks of each Super Bowl and looked at whether the one with the higher regular-season ANY/A+ (same statistic, just scaled to an average number of 100 to take passing environment into context) was victorious.
(Disclaimer: ANY/A+ data was not available between 1920 to 1968, meaning the first three Super Bowls were not included in this research.)
The first run-through saw a 25-21-1 edge in favor of the worse quarterback. However, eight signal-callers' (1972 Griese, 1974 Bradshaw, 1979 Ferragamo, 1982 Theismann, 1982 Woodley, 1987 Williams, 1990 Hostetler, 2012 Kaepernick) ANY/A+ statistic were skewed because of small sample sizes, so my next evaluation eliminated them from the sample. After doing that, the difference shrunk a tad but it was 21-18-1 towards the weaker signal-caller.
Below is a scatter plot of these numbers: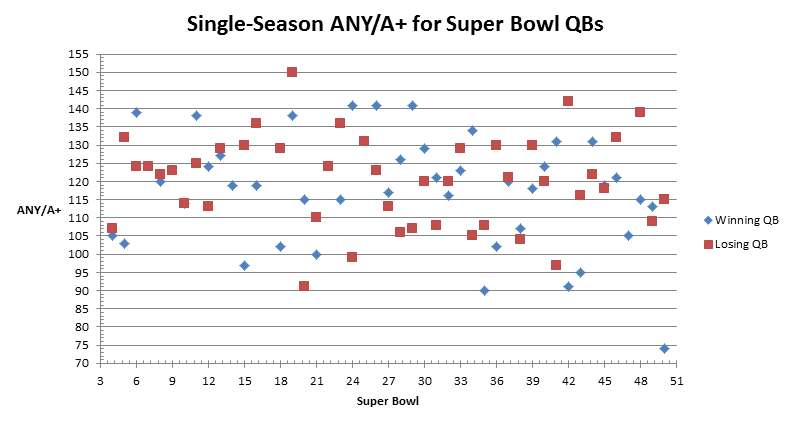 A couple of interesting trinkets I pulled from this research:
1 – Nine quarterbacks have posted an ANY/A+ of 100 or lower and made the Super Bowl. Six of those signal-callers [1980 Plunkett, 1986 Simms, 2000 Dilfer, 2007 E. Manning, 2008 Roethlisberger, 2015 P. Manning] ended up hoisting the Lombardi Trophy.)
2 – I forgot how poorly Ben Roethlisberger played during the 2008 season (95 ANY/A+), frustrating me even more that my Titans couldn't get past the Ravens (and referees) in the AFC Divisional Round that year.
3 – Peyton gets criticism for only beating Rex Grossman in Super Bowl XLI, but Tom Brady doesn't get the same backlash for losing to Eli Manning in XLII. Why does that matter? Well, Grossman posted a 97 ANY/A+ in 2006, six points higher than Eli's 91 the next year. Combine Brady's 142 ANY/A+ from the Patriots' 16-0 campaign and you have a difference of 51 points – the largest in a Super Bowl match-up between quarterbacks.
So what is this looking to prove? That we shouldn't be taking Super Bowl wins and losses as gospel. I've mentioned before that postseasons are mostly crapshoots and it's strange to me that we let playoff narratives get in the way of assessment. Hopefully football fans won't look at Peyton Manning's career any differently after he won a second championship last night, because it never needed that affirmation.